Instagram Rolls Out New Features to Help Stop Cyberbullying
Melissa Limaa
If you ask teens and kids what they hate the most about social media, they will say Cyberbullying and trolling. It has become quite rife that many people try to troll and bully others even without knowing them. According to psychologists, it is a mental health issue that is hard to deal with within a short time. Rather, there is a need for some technological solutions in this regard that can provide a safeguard against social media bullying.
In the past, various options were offered to deal with Cyberbullying but they failed. This had led to an increase in bullying events. A lot of teens and kids suffer from this problem. Parents are also concerned about the growing Cyberbullying on social media and dating websites. What do you think is the best option to deal with this? Instagram has come up with an idea to deal with this menace and we are going to talk about it in this blog and see how this feature is helpful against Cyberbullying.
Cyberbullying and Instagram
As social media sites became popular among people, more users emerged on the sites. Facebook was the first such site that attracted millions of people around the globe. Now it has a user-base of more than 5 billion throughout the world. Instagram is also such a platform that connected people.
There is no denial of the fact that social sites have helped a lot when it comes to connecting people. Now a person sitting in the USA can talk to and make video calls to another one sitting in Africa. Even the least developed and third world countries are not behind when it comes to the effects of social media sites. This has changed the world to a whole new level and communication became easier than ever.
But what goes unnoticed is the growing danger of social media sites for all the users. There are several serious and harmful effects of social sites for kids, adults as well as young people. Social media use leads to depression and anxiety in young girls. This is just one side effect. The latest thing is bullying and trolling on social sites. You will also find bullying at the workplace.
Alarming Facts and Stats on Cyberbullying
Before we talk about the possible effects and harms of Cyberbullying, we should learn about some alarming facts. The stats given below demonstrate how large the issue is and to what extent it has spread around the world.
More than 37% people of 12 to 17 years of age were bullied online.

99% of teens in the USA have access to the internet and the majority of them gets bullied on social sites.

30% of students at school reported Cyberbullying from their peers on social media.

More than 45% of people on Instagram are bullied.

60% of Young people have witnessed people bullying others online.

1 in 10 teens reports abuse and bullying from adults.

20% of Teens experience Cyberbullying regularly on social media.
It is not hard to draw some useful lessons and argue against Cyberbullying. We have seen that Instagram is the most dangerous social site where 45% of people are bullied. This is the biggest number of users on any social site. This is the reason why we have picked Instagram. It is time parents should protect children from online trolling and Cyberbullying.
Why Cyberbullying is an Issue?
Cyberbullying is a sort of dominance, abuse, and misuse of sources to insult others and drag them down. The bullies feel pleasure when it comes to bullying others. It looks like a great experience. But they have no idea how dangerous it will be for the people who are bullied.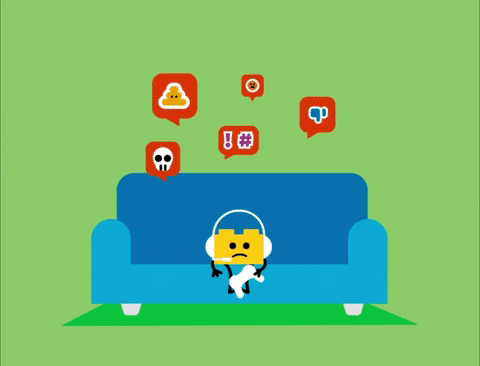 Before we discuss the possible option and Instagram's new feature to deal with Cyberbullying, we need to talk about the effects and harms of Cyberbullying. There are hundreds of effects but we have classified them into major categories so that it becomes easy for the parents to understand this issue and take proper steps.
Social Effects
The first category is called the social effects. In this effect, the kids and teens feel lonely and they do not want to socialize with anyone. When a kid is bullied, it affects him or her to a large extent. The direct effect is on their behavior and they believe others will also bully them. So they do not trust anyone and even their siblings and friends. This bad experience if continued leads to further issues.
Psychological Effects
The second option is the psychological effect of Cyberbullying. As the kids and teens are bullied, they feel depressed. It affects their mental health badly. Such kids and teens believe everyone is around them so they can bully them. It becomes the biggest challenge of life for kids and teens. They do not know how to deal with this.
Physical Effects
Going further, we see many physical effects of Cyberbullying. Some teens and kids are bullied. As it continues and affects their social setting, they feel lonely. They develop a complex which also affects their physical health. You will also find many kids and teens physically weak because they are bullied on social media.
Mental Health Issues
The worst effect of Cyberbullying is on the mental health of kids and teens. Various studies have found out that Cyberbullying is directly linked with the confidence and mental development of children. If the kids are bullied at a young age, they will not be able to develop the required confidence to face the world.
Instagram's New Feature to Deal with Cyberbullying
As we have more than 45% of people on Instagram are bullied every single, this has become the biggest issue for the team. Facebook owns Instagram and they believe it should be handled with heavy hands. Otherwise, it will become uncontrollable and no one will be safe from its harms and dangers. So what is the new feature?
What is the New Feature?
Considering the need to handle Cyberbullying, Instagram has come up with a new feature RESTRICT. This option has been introduced to allow the users to deal with the bullied and get rid of them. With this feature, users can stop anyone from commenting on their posts and walls. The bullied can comment but it will not be visible to anyone, except the person who comments and the person who is being bullied.
This feature is very much helpful in a lot of ways. To understand the importance of this feature, we should know how bullying on social sites is done. Usually, people comment on the posts, photos, and statuses of others. They use offensive words to target a particular person. When others see such comments, they also join it and start bullying him. It becomes really hard for the person to handle it.
So now Instagram has offered this feature which will let the bullied comment. But no one will know about it because it will not be visible to them. Bullies will think they have done their job but others will not see anything. This helps the users to peacefully deal with such issues. This feature is very useful for teens and kids who are often bullied on Instagram.
Other Ways to Deal with Cyberbullies on Social Media

Apart from this method, there is another practical and reliable solution. If parents are worried about their children because they are bullied online, they should start using the BlurSPY Android tracker app. It is the best parental monitoring app that offers the same feature and helps deal with bullies.
Using BlurSPY App
BlurSPY is an ideal option when it comes to managing to bully. With this app, parents will be able to keep their eyes on the social media use of their children. They can access their social accounts and see what they do. If parents doubt their kids are bullied, they should start using the BlurSPY mobile snooping software.
With the screen recorder feature, parents can see if their kids are bullied or not. It offers a lot of help to the parents. BlurSPY also offers a wide range of other features like tracking GPS location, monitoring social media, spying on phone calls, and others.
Conclusion
To deal with bullying, Instagram has introduced a new feature called Restrict which helps users stop bullies from commenting. Along with this feature, you can improve safeguard against bullying with the BlurSPY app.